Most of the locations I photograph in, and certainly many of the species that are my subjects are in need of protection. Big conservation organizations I can support with donations. I really like the closeness and close working relationships that turned into friendships with smaller grassroots organizations, however. For a localized area, I believe they can have a much deeper impact. Besides donating, over the years I have supported three organizations in particular with my photography, but also through my photography.
Conservation South Luangwa; https://cslzambia.org/. A group largely comprised of former guides, lodge owners, and residents near South Luangwa National Park in Zambia. This group involves the community in wildlife conservancy. Hires locals. Works with local schools. Assists government wildlife rangers. Conducts anti-poaching patrols, on foot, by vehicle, and lately by air (combats

Sustenance

and Commercial Bushmeat Poaching as well as Commercial Ivory Poaching). Human-Wildlife Conflict Mitigation. Will get involved in veterinary work if wildlife is suffering due to human causes. I have photographed anti-poaching patrols as well as personnel and donated the images to CSL (formerly SLCS) for publication, etc. Have also photographed snared animals (victims of bushmeat poaching) and donated the images. My first gallery exhibit's proceeds were donated to CSL (formerly SLCS).
Chipembele Wildlife Education Trust; http://www.chipembele.org/. Also in Zambia's Luangwa Valley. Besides an animal orphanage, its main purpose is to teach local children basic ecology and the importance of wildlife and its existence (local children actually have very little contact with wildlife, and often view wildlife as a dangerous nuisance). Also promotes education in general and assists in and works towards local village children succeeding in primary school with the goal of going to university in Europe, North America, or Australia. Several children have achieved this. Education is key to reducing poverty, and down the line even poaching. I have photographed local village children for a calendar that was used by Chipembele as a fundraising tool, as well as donated images for their classroom for educational purposes.
Ventana Wilderness Alliance (VWA); http://www.ventanawild.org/. Based in Santa Cruz, California. Active in the designated wilderness area of the Northern Santa Lucia Mountains just inland of coastal Big Sur, by assuring public access and safety by maintaining wilderness trails, wilderness promotion, and stewardship, and working with other organizations and individuals to protect this pristine wilderness area. I have photographed some of the area with VWA's mission in mind, and have donated images for VWA to use in their newsletter as well as for print advertising (such as in Catamaran Literary Reader and in the Monterey County Weekly). VWA has raffled off a framed photograph donated by me at the 2012 Wilderness Film Festival at the Del Mar movie theater in downtown Santa Cruz. In September 2018 I co-sponsored a VWA-organized fundraising event; the Wild & Scenic Film Festival.
Besides direct involvement, at every single exhibit, inevitably conversation will turn towards conservation. I am lucky to show and sell my images of wild places and wild creatures to the public. Likewise, people want to share their experiences. In addition to direct business dealings and conversation, I am able with my work to, directly and indirectly, create awareness.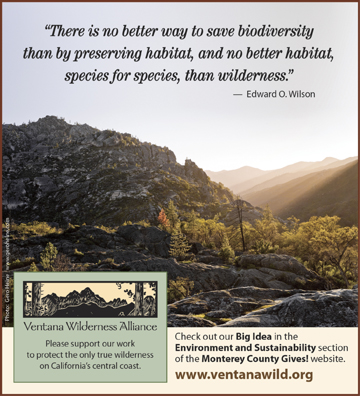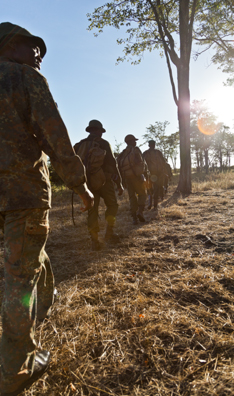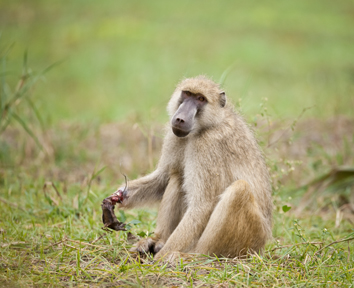 Lately, I have donated some of my images to the nonprofit Santa Cruz Museum of Natural History for their marketing, awareness, and fundraising purposes. This was the front inside cover of the 2022 Santa Cruz County Wildlife Watching Guide.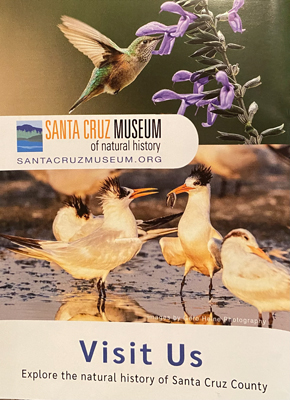 My image "Black Bear Mother And Cub I" was chosen as National Wildlife Federation's COVER IMAGE for NWF's 2018-2019 Gift Catalog: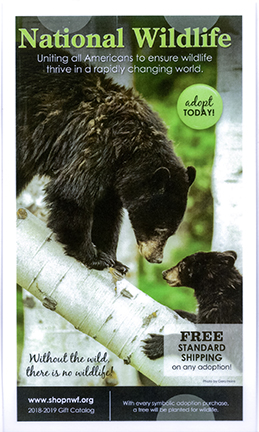 I donated my image "Ventana Ridge In The Late Afternoon" for Ventana Wilderness Alliance to use for the backdrop of their leaflet/Monterey County Gives fundraising campaign: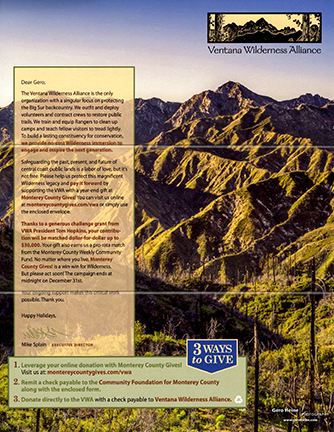 Ventana Wilderness Alliance's quarterly newsletter "Ventana Wilderness Watch" cover Spring 2012, and page 3 images inside: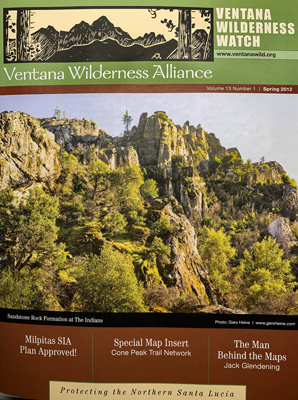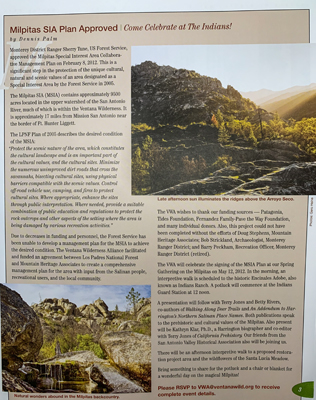 Back in 2005, I volunteered at Earthwatch's "Lions Of Tsavo" project, headed by Dr. Bruce Patterson from the Chicago Field Museum of Natural History. Besides tracking radio-collared lions in the middle of the night in the Kenyan bush, I helped facilitate a donation of external hard drives to the project through my previous employer.